A few years ago, at the season of Easter and Passover, we posted our idea of what "THE TEN COMMANDMENTS OF EFFECTIVE PUBLIC SPEAKING" might look like if they came down from On High. As we once again welcome Spring and the time of renewal, here is a reprise of that list, presented in the interest of keeping your audiences awake: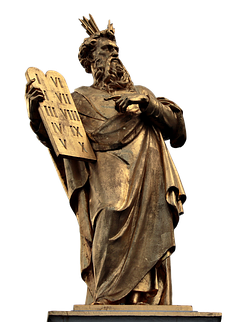 I  THOU SHALT KNOW THINE AUDIENCE AND REMEMBER ABOVE ALL ELSE THAT THINE MESSAGE MUST AT ALL TIMES RESPOND TO THINE AUDIENCE'S INTERESTS, NEEDS AND CONCERNS.
II      THOU SHALT ACTUALLY PRACTICE WHAT THOU DOTH PLAN TO SAY BY SPEAKING IT OUT LOUD MANY TIMES. THOU CANST NOT GET AWAY WITH  "WINGING IT" NO MATTER HOW SMART ONE THINKST ONE IS.
III    THOU SHALT PREPARE AN EFFECTIVE OPENING "GRABBER" TO GALVANIZE THINE AUDIENCE'S ALWAYS FRAGILE ATTENTION.
IV     THOU SHALT BE CONCISE.
V     THOU SHALT MAKE AND MAINTAIN EYE CONTACT WITH INDIVIDUALS IN THINE AUDIENCE THROUGHOUT THINE PRESENTATION.
VI     THOU SHALT PAY ATTENTION TO HOW THOU DOTH USE THINE VOICE. VARY THINE PACE, TONE, PITCH AND VOLUME OF SPEECH.
NOTHING PUTETH AN AUDIENCE TO SLEEP BETTER THAN THE MONOTONY OF A REPETITIVE VOICE PATTERN.
VII    USETH NOT THE LASER POINTER NOR SHALT THOU TURNETH THINE BACK TO THE AUDIENCE AND READ THE SCREEN.
VIII   THOU SHALT FINISH EARLY AND LEAVE TIME FOR QUESTIONS THAT THOU HAST ANTICIPATED AND PREPARED TO ANSWER. (See Commandment II)
IX      THOU SHALT REPEAT THINE MOST IMPORTANT POINTS AT THE END SO THAT THINE AUDIENCE DOTH REMEMBER BEST WHAT THOU WISHEST THEM TO REMEMBER BEST.
X       ABOVE ALL, THOU SHALT SMILE THROUGHOUT AND PRESENT A JOYFUL COUNTENANCE TO THINE LISTENERS.